Discover more from The Sportsman
Journalism, opinion and stories from the sporting life. Occasionally cavalier, always independent. Your guide to classic pursuits, skills, and culture. Free to read, but subscriptions appreciated.
Over 2,000 subscribers
Hunter and Angler Holiday Gift Guide
There's nothing harder than gift shopping for a picky angler or hunter, but don't resort to the promotional Made-In-China cut-rate gear as you wonder through the local Mega-Mart. Instead, here are ten recommendations on gear that will be sure to get a smile as the wrapping paper comes off. (Hint: Print this list out, circle the items you want, and leave it where it's easy to find.)
Camp Chef Smoke Vault Smoker – There is nothing like a smoked turkey for the Holidays. By injecting marinades or butter and slow smoking it, the meat can be so moist, tender, and flavorful that it puts grandma's old dry turkey to shame. But, with literally hundreds of smokers on the market today, it is hard to separate the winners from the also-ran models.
Here are a few things to think about:
Electric smokers often don't have enough heat to do the job safely. A key factor in smoking is getting cold meat past the danger zone where bacteria can grow. Electric smokers also need an electrical circuit heavy enough to handle the high-current draw. Often extension cords can't handle that heavy-duty use.
Some models require special wood tablets that can cost double or triple what regular wood chips cost.
Some models of smokers don't seal well and allow smoke to leak out before it has had a chance to saturate everything in the smoking chamber.
Some models are so small, it's hard to fit hams, fowl, and racks of ribs in them.
These reasons and more are why we went with the 24" Smoke Vault by Camp Chef. The 18,000 btuh propane burner can handle any load quickly. With a range from 160 degrees to 400 degrees, the Smoke Vault can even bake bread and pies. The wood chip tray can handle store-bought or even self-cut wood chips for that perfect smoky taste. The smoking chamber is large enough to even handle Ebenezer Scrooge's Christmas goose or a wild-hog ham.
MSRP: $319.99 Street Price: $249.99
http://www.campchef.com/smoke-vault-24.html
Fatboy by Hunt Comfort – Nothing spooks deer, turkey, or predators like a fidgety hunter. The primary reason a hunter gets fidgety is a lack of comfort while sitting for long periods. A Fatboy cushion can take the aches out of sitting and help hunters reduce unwanted movement.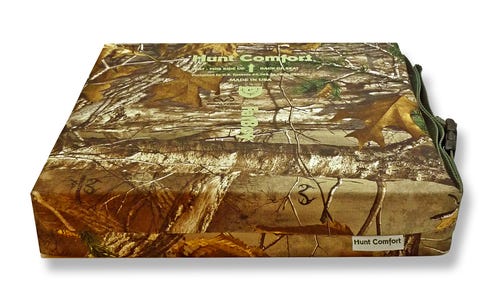 Do not confuse the Fatboy for cheaper products on the market. With special foam and gel inserts for long-lasting comfort and support, it is in a class of its own. We can testify to its comfort level from long use while on black bear hunts in Canada and white-tailed deer hunting in Indiana. Seriously, we couldn't hunt without one, it's that simple.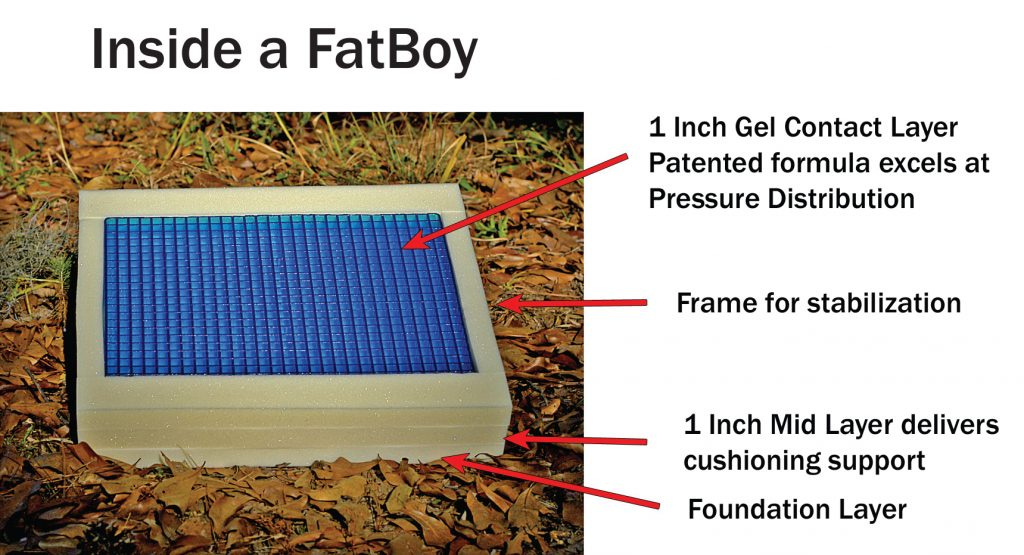 Turkey hunters: Hunt Comfort also makes the Scout, a contoured padded seat that's perfect for turkey hunting.
MSRP: $79.99
http://www.huntcomfort.com/shop/fatboy
ThermaCELL – Turkey season isn't that far off and if there's one thing to alert an ole' wily tom to our presence is swatting at a mosquito or nasty biting flies. ThermCell repels biting bugs like a 15' by 15' force field, so we can sit still and concentrate on calling in that ole' long beard. We have used them turkey and bear hunting to great effect.
MSRP: $29.99 Street Price: $19.99
https://www.thermacell.com/products/mosquito-repellents/mosquito-repellers
Henry Rifles – Tribute Rifles – If that special someone has done something special, honor them with a tribute rifle by Henry. From military service to Boy Scouting, from Freemasons to farming, they have a rifle that will make someone's Christmas morning special.

Not to mention Henry makes countless other lever-action rifles that relive the Wild West in calibers from .22 Long Rifle to .45-70. From plinking to big-game hunting Henry has you covered, plus they're made here in the USA, and that matters to us.
MSRP: Starting at $360.00
SonarPhone T-Pod by Vexilar – How many times have we been bank fishing on a river, pond, or lake and wondered what was lurking below? Fish relate to structure and using the SonarPhone, we can find that structure that few other fishermen or women know about. The end result is more and bigger fish.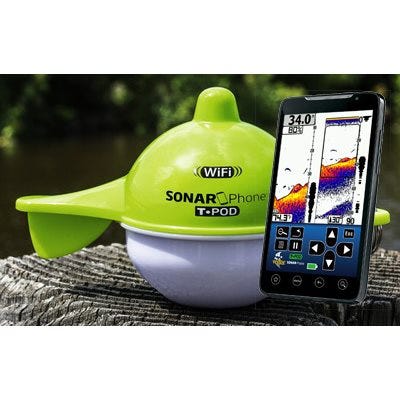 The SonarPhone T-POD SP100 is an ultra-portable WiFi transmitter that can be pulled behind your boat, cast, or thrown from shore. It turns your smart phone or tablet into a fully functional sonar system that will rival any high-end sonar on the market today. You don't need cell phone coverage to use it, so the SonarPhone will work anywhere in the world. The SonarPhone creates its own WiFi hotspot and you can share your signal with as many people as you wish. The software App is downloaded for free from the App store and works with both Android and IOS systems.
MSRP: $129.95 Street Price: $112.00
[embed]https://youtu.be/gb7qpfiooCM[/embed]
https://shop.vexilar.com/en/sonarphone-1
Grand Slam Turkey Vest by ALPS – Hunting turkey in Indiana can really stress a hunter's patience and their legs and posterior. It always seems like the best place to set up is lacking the perfect tree to lean against, and invariably a root or rock slowly rises out of the ground, making muscles and joints complain in agony just as a tom gets close. The heck with that! Bring the perfect "tree" with us; and no roots or rocks will be poking tender areas of our bodies.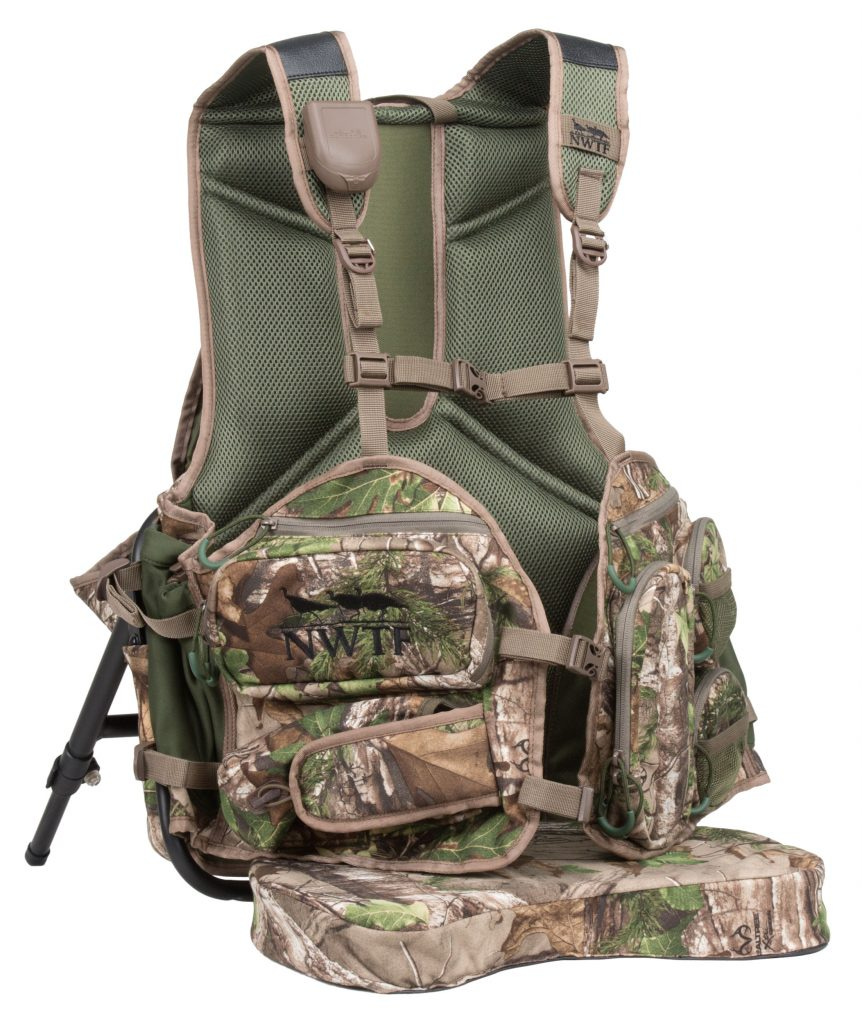 Alps' Grand Slam Turkey Vest is perhaps the ultimate turkey vest available today. Featuring state of the art features such as the "sit anywhere" kickstand frame, thick padded fold away seat, a smart-phone sleeve that allows you to use your phone while it's still in the pack, and a removable diaphragm call pocket among many others features, this vest delivers. Other features include shell loops, H2O compatibility, side compression straps, two water bottle pockets, detachable shoulder straps and a protective and silent box call pocket.
MDRP: $179.99 Street Price: $115.25
http://www.alpsoutdoorz.com/products/nwtf/hunting-vests/grand-slam
RedHead Camo Fleece Hand Muff – Cold hands can drive a hunter in doors almost as fast as cold feet. Cold hands also make it hard to operate a firearm when the ducks come in or a trophy buck wanders through. Unlike gloves or mittens, a muff allows a hunter to combine their hand heat and even hold a pocket warmer.
MSRP: $24.99 http://www.basspro.com/RedHead-Camo-Fleece-Hand-Muff/product/10221151/
BOLT Locks -- If you drive a Jeep, SUV, or truck, haul gear, or pull a trailer, then the BOLT Series of locks is for you.
The BOLT Series of locks lets you set all your receiver pin locks, padlocks, tool box locks, cable locks, and Jeep locks to work with your ignition key! Simply insert the truck's ignition key into the BOLT lock, turn it once and the lock mechanically and permanently learns the key code.

But convenience isn't their only benefit. BOLT locks are made by STRATTEC, the world's largest manufacturer of automotive locks and keys, and the main OE lock supplier for Ford, GM and Chrysler. Since BOLT locks use automotive technology and materials, they have the highest corrosion resistance rating on the market, and are nearly impossible to pick. Whether you are a truck pro or a weekend warrior, you can't beat the convenience of BOLT locks. Why carry all those extra keys?
[embed]https://youtu.be/lcVb3z8ko9w[/embed]
MSRP: Starting at $21.99.
Backwoodsman Magazine -- Backwoodsman magazine was started in 1980 and is published bi-monthly. They are dedicated to preserving Old Frontier living, primitive hunting and fishing, tool and weapons lore, and wilderness survival. Each issue includes articles, information and how-to projects associated with this unique period of North American history…
Types of articles you'll find in their magazine…
How to build shelter, canoes, firearms and bow-and-arrows

How to fabricate clothing, create tools and other gear necessary for life on the frontier

Survival techniques, fire-building, cooking

Primitive hunting and fishing

Indian lore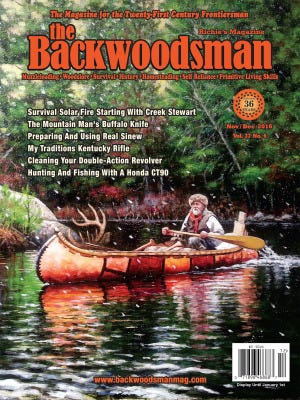 Subscription: Six issues (One year) for $25.00
http://www.backwoodsmanmag.com/
The Odyssey by Quaker Boy – We are a fan of just about any turkey call by Quaker Boy, but the new Odyssey box call elevates itself above all in a way that makes you wonder, "Why didn't I think of that?".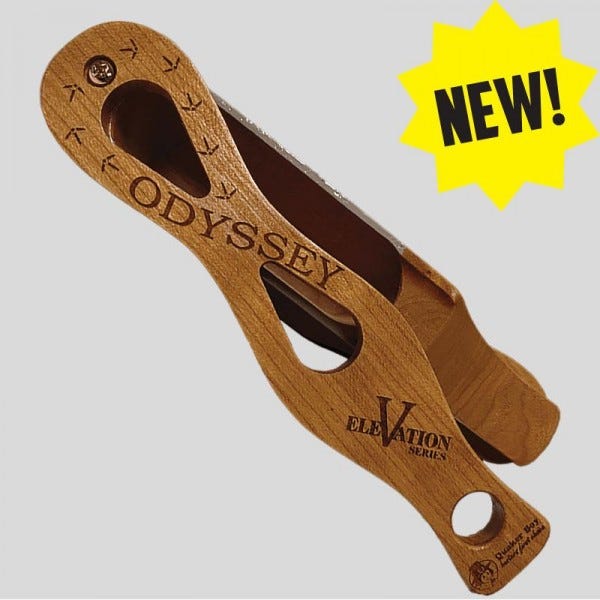 Meticulously hand crafted of the finest hardwoods available, the Odyssey's ToneBlast technology frees the sound from the interior of the box. The sound is no longer trapped inside; the ToneBlast lid allows yelps, cutts, clucks and cackles to escape the interior of the box, reaching gobbler's ears with clarity and definition.
[embed]https://youtu.be/qsXFsdkoDM8[/embed]
Treated with their waterproof coating, the Odyssey can handle whatever Mother Nature throws at us.
MSRP: $59.99 Street Price: $39.99
https://www.quakerboy.com/product/odyssey-2/