Indiana Wipers: Surf Fishing, Hoosier Style
Ask anyone who fly fishes the east coast and they will tell you there is nothing more exciting than hooking in to a big striped bass when they come in to feed along the coastal shores of the Atlantic. It takes a stout rod and plenty of endurance to wrangle a big striper. Fortunately, anglers here in the Hoosier state can get a taste of the same excitement without traveling hundreds of miles because southern Indiana's Lake Monroe has a healthy population of hybrid striped bass.
Hybrids, or "Wipers" as they are commonly called, are a cross between striped bass (Morone saxatilis) and the white bass (M. chrysops). There is a bit of science involved, but the most important thing to understand is that the resulting cross is a fish that feeds aggressively on baitfish and puts up a terrific fight when hooked.
Indiana Wipers can be distinguished by the broken horizontal lines that run the length of the fish's side and are known to grow to into the upper teens and approaching 20lbs. The state record (22lb 2oz) was taken from the Tippecanoe River in 2005. On Monroe, it is common to catch fish in the 5 to 10 pound range and every year there are several caught in the teens.
When the water temps approach the mid-fifties in the fall, the fish move in to the Fairfax State Recreation Area. They gather just off shore of the beach area to corral and feed upon schools of bait fish. The large open flat of the beach, especially when winds are out of the southeast, is the perfect environment for this feeding frenzy.
Indiana wipers don't generally bite well on bluebird days so when the southeast wind is piling waves on the beach and point area, and the sky is grey and threatening to spit drizzle or flurries on you, grab your 6-8 wt. fly rod or medium action spinning gear and head to the beach. The wind direction is most important of these factors.
Fishing is also good here in early spring. Chances are you won't be alone. Fishermen often gather under these conditions to ply their skills against these aggressive fish. The brotherhood of the sport runs deep here and fishermen space out evenly, each claiming a spot along the beach, along the walk, and in various places around the point. It sometimes resembles a salmon run in this manner, but there are plenty of fish to go around. Casts are generally made straight out for distance and retrieved fairly quickly at a depth of 4-6 feet so tangled lines rarely, if ever, happen. And, believe me, when the wipers are on, they're on!
Two fisherman try their luck in the Eastern yellow zone
What you will need for Indiana wipers
A 6 to 8 weight fly rod should serve you well. Some use fly rods as small as 5- and as large as 10-weight. Whether you use floating, neutral, or sinking tip line is a matter of preference. The bottom structure is generally open flats of sand and mud with few weeds. Of course, an appropriate leader of tough 7.5 to 12 pound test is needed. The fly selection is fairly simple: Clouser minnows are the staple here. Any baitfish pattern is effective, but Clousers are the standard. Colors should be white/green, chartreuse/white patterns. Some add a small flash of red in the gill area. It is also good to have an olive/purple or brown/purple fly, or two, just in case the water is muddy or stained.
Spinning gear should be medium to medium/heavy action with 10 to 12 pound line. I prefer braid with a fluorocarbon leader for casting ease. The fluorocarbon leader keeps the end of the line invisible but isn't usually necessary. For casting anglers any lure imitating a bait fish can work, but the Rapala Husky Jerk has given me the best results. Bucktails, Roostertails, and Mepps Spinners are effective also.
Location, location, location
Here is a brief guide to the hot wiper fishing areas at Fairfax State Recreation Area, starting west and going east. The satellite picture is oriented to the north.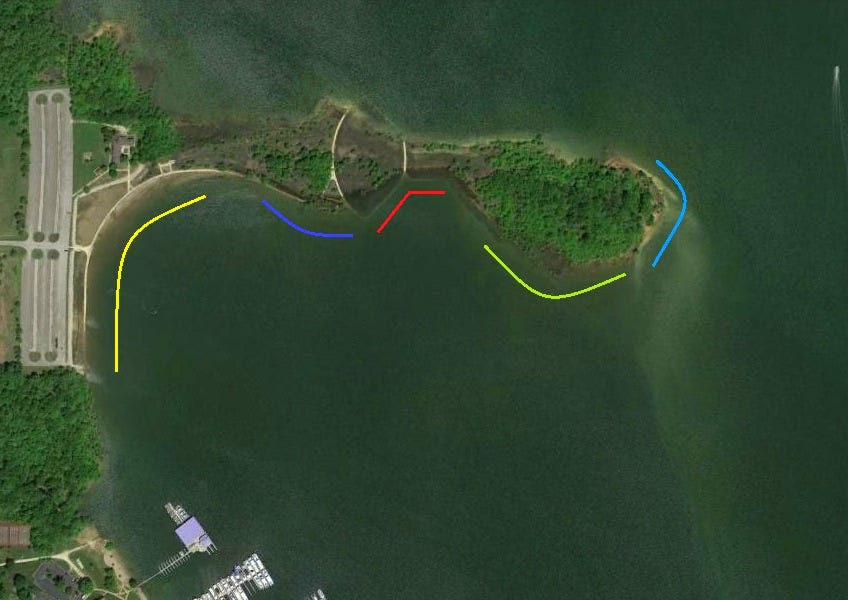 Yellow- beach area: This area produces well in the spring, but often does well in the fall, too. It is the beach area so when the ropes are out it is off limits. This area is best fished with waders and anywhere from end to end is likely to produce fish. Often, when the fish are really on, you can find fishermen evenly spaced along the entire beach standing chest deep and casting into the bay.
Dark blue- transition area: This area can be a bit more difficult to fish. Waders are almost a necessity and the bottom is semi-soft clay. It can be walked on, but if you stand too long you may suction down into the clay a couple inches. This is one of the lesser fished areas for wipers, but they do sometimes school here.
Red- "Concrete Point": This is the most fished area, and rightfully so. I have had many four dozen fish evenings here. When the wind is out of the southeast this area cups the waves and corrals bluegill, crappie, and shad. When the fishing is good, fisherman race to be the first to this area. Another plus is that it is all sidewalk right along the water's edge. It is approximately 4 feet deep along the edge and tapers to 6-7 feet in the middle. This natural bowl is perfect for the slashing wipers as they feed. There are few obstructions in the grass area behind the walk to interfere with back casts so this is an exceptional area to flycast.
Yellow- south side of the peninsula. This area is also a clay flat and has a few weeds and occasional piece of sunken driftwood. Access is by walking through some light brush so take care not to tear your waders. Early in the fall season, when water temps are still in the mid to low sixties, this area can sometimes fill up with smaller wipers. It is not uncommon to have fifty fish evenings here, but the fish are generally smaller and in large schools. If you want to have a lot of action and don't care about size, this area is for you. An occasional walleye is caught along here as well.
Blue area- the point. This area is difficult to fish as it most closely resembles true surf fishing. It has been known to produce fish throughout the summer as it breaks off into the main channel of the lake. This is the narrowest corridor of the main lake and fish use it to move from one main deep water area to another. Wipers of significant size are caught out here, but with far less frequency. I have seen some monsters out here, though. The mud flat in the south of this region is suitable for wading, but again, be mindful of the clay. Your feet can become one with the bottom and the waves here can be of significant size. This can easily make for a soggy fisherman. If you can manage to get some good casts in, monster hybrids troll this submerged break.
***
Good luck surf fishing Hoosier style for Indiana Wipers; I'll meet you at Fairfax when the weather is right!
Links:
Indiana DNR Hybrid Striped Bass Info page
Lake Monroe Water Temperature from USGS
[wpgmza id="31"]