Cowboy Action Shooting: Are You Game Enough?
They were all there; Rattlesnake John, Cannon, Undertaker, Dough Slinger, and others. They were all watching my every move. I had been challenged and I knew deep down inside me that I had to respond.
Knowing gunplay was inevitable, my position was less than desirable. My pistols weighed heavy on my hips as I leaned against the wall, one leg up, heel against the wall in cowboy fashion. I hissed, "I was just getting comfy…" and flew into action. Taking two steps forward, I grabbed a Yellow Boy '66 rifle and fired off shots as fast as I could work the action, the gun never leaving my shoulder. Seconds turned into a lifetime as I fired at my adversaries. One shot here, two shots there, swinging back and forth until the rifle was empty.
Alan "Cholla" Garbers takes out the bad guys with a Ruger New Vaquero in .45 Colt. Photo provided by Dianna "Songslinger" Garbers.
Next, I leaped to the waiting side by side 12 gauge and loaded. A deadly shower of lead knocked two more opponents down. Running around a post, I reloaded and fired two more blasts and felt grim satisfaction as I saw two more opponents fall.
But there wasn't time to bask in the glory of surviving, there was still work to be done. Stepping to my right I drew one pistol and fired, the Ruger Vaquero bucking as fast as I could thumb the hammer back. With the pistol empty, I drew the other and repeated, a shot here, two shots there…
Instantly, a buzzer went off and I heard Dough Slinger yell out, "56 seconds…clean!" Cannon rushed forward, "Well done!"
If this all sounds campy, that's because it was meant to be. I had finally done something that I had wanted to do since I was a teenager. I was living all the Louis Lamour novels I had read. I was in the John Wayne westerns I had watched. It was almost like Audie Murphy was by my side blazing away as the targets fell. I was in a Cowboy Action Shooting (CAS) match.
Cowboy Action Shooting is a family sport. Photo provided by Amber Nicole Black .
I had been wanting to join the Single Action Shooting Society or SASS to most folks since I first heard of it over two decades ago. What is SASS? Glad you asked.
SASS is an organization of members that shoot and dress the cowboy era. As a shooter, you can take it as seriously as you desire, from jeans and a cowboy hat, to period correct clothing, or even dress the part of a B-grade western star. There's even a Steampunk class! What that means is, you can dress like Hopalong Cassidy, Clint Eastwood, or even Will Smith from The Wild Wild West.
Tyler "Undertaker" Tutterow lives up to his name as he makes steel targets ring. Photo by Amber Nicole Black.
The whole point is to have fun while shooting cowboy-style pistols, rifles, and shotguns at targets so close you wonder how anyone could miss, and then ponder why you did when it happens. To add to the challenge, each stage has a specific shooting sequence, so a shooter needs to remember how many shots are required for each target, and what sequence the targets are shot in. New shooters are given help to remember. The idea is to have fun.
We're not saying Mike "Cannon" is fast, but notice the five brass casings still in the air as he transitions to his next weapon. Mike is among some of the top shooters in the world. Photo provided by Amber Nicole Black.
For me, the biggest obstacle of getting into CAS is the investment in guns. Each shooter must use two pistols, a pistol-caliber rifle, and a shotgun that were made before 1899 or are a reproduction of a gun made before 1899. But, do not let that stop you from trying it out. I strongly urge you to find a local club, contact them that you want to try it out, and they will bring the guns. (You will be expected to pay for the cartridges used.) All you need to start is a cowboy hat, long sleeve shirt, jeans, and cowboy boots. (Ladies, you can wear the same or follow the ladies dress code listed on the SASS website.) As you get into it, you are expected to refine your clothing and follow the SASS guidelines.
Nothing says Old West like a Henry 1860 lever action rifle paired with a reproduction 1872 opentop Colts by Cimarron Arms.
The Winchester Model '73 is the most popular rifle in cowboy action shooting. The Ruger New Vaquero is also highly popular.
While I am a new member, I can assure you that you should not buy anything before actually shooting in an event, and seeing which other events you may want to shoot in because different classes of shoots require different classes of firearms and clothes. And, do not feel like you can't compete. Classes are broken down into age groups and sexual orientation.
One of the guidelines I like the most is "The Spirit of The Game". SASS shoots are a game. You are expected to play by the rules of the game, even if they sound silly. Each stage is started from a certain position, such as leaning against the wall in "cowboy style", touching a post, both hands on your shotgun shell belt, etc. And each shooter must say a line from a western movie that has been selected by the person running the match. In the stage highlighted above, it was "I was just getting comfortable". You can say the phrase as campy or lackluster as you desire, but everyone must say it. Everyone does it, everyone has fun.
If you have the slightest desire to do CAS, check out www.sassnet.com. I joined. Then I joined Pine Ridge Regulators (http://pineridgeregulators.com) in Carbon, IN. If you want to shoot, there are clubs all over the USA and the world. There are many right here in Indiana.
Add to that you may want to attend and join NCOWS or the National Congress of Old West Shooters. NCOWS has stricter clothing and firearm regulations, leaning towards things that are historically correct, and not what was seen on the silver screen. NCOWS also has a "Working Cowboy" class that only requires one rifle and one pistol.
In both SASS and NCOWS, all loads for the rifle and pistols area to be pistol caliber with a power rating at or less than a black-powder load, and all bullets are to be pure lead with no copper jackets. What this means is that no 30-30 or 45-70 rifles can be used in the main match. While a .357 or .44 magnum firearm is allowed, it has to be downloaded to what a .38 or .44 caliber cartridge would have been prior to 1899. If you don't reload, you will want to find ammo labeled "cowboy action" loads.
Some cowboy action loads have the SASS logo emblazoned on them.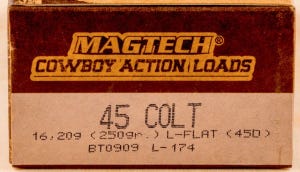 If there's one thing I want to instill in you, if you want to do this, don't put it off. I just started, but I already regret not doing this 25 years ago.
One last thing, as a SASS member, you get to pick your own alias, as long as someone doesn't already have it. You could be the Muncie Kid, Tippy Canoe, Dyer Straight, or whatever else suits you and is PG rated.
If I still don't have you excited about CAS, check out this video. It pretty much covers it all.
See you at the O.K. Corral,
Alan "Cholla" Garbers
More Information:
Ruger Vaqueros -- https://www.ruger.com/products/vaquero/overview.html
Henry 1860 Original -- https://www.henryusa.com/rifles/the-original-henry-rifle/
Cimarron 1872 Opentops -- https://www.cimarron-firearms.com/products/revolvers/open-top-revolvers.html
Winchester Model '73 -- http://www.winchesterguns.com/products/rifles/model-1873.html
Cowboy Action Loads -- https://www.wideners.com