The title of this post is a bit misleading; I'll include a few tips for putting your boat away for the winter, but I really don't recommend it - there is no reason not to paddle year-round as long as you're careful and take the right gear with you. Winter paddling is great!
A towel and an extra change of clothes in a dry bag is mandatory for everyone on cool-weather trips, along with a space blanket and your preferred fire-starting method. More clothes and blankets left in your car are also a good idea. Even in an urban area like the White River around Indianapolis, you need to be able to get a person dried off and warmed up and into dry clothes as quickly as possible.
Avoiding cotton is also highly recommended, it takes too long to dry and doesn't help a person stay warm if it gets wet.
Otherwise, you may end up looking something like this: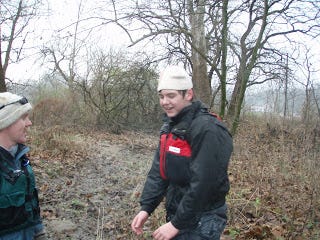 Fortunately on that trip we weren't far from the takeout, but this still made for a cold 30 minutes or so. Fortunately the temperature was above freezing.
Paddling in the winter can be beautiful, even with browns and greys dominating the color scheme. You may see sights you don't normally see without the leaves on the trees. Snow can also make for fun "sledding", or give the landscape a whole new look.
Ice forms on the banks, trees, and in eddies and backwaters creating unusual patterns that you would never see otherwise.
On the other hand, be aware of the condition of boat ramps and other accesses. Hazel Landing Park in Carmel has a nice paved access walk that can be extremely slippery with a light coat of ice, snow or freezing rain. Make sure you have the necessary gear in your vehicle in case you get stuck.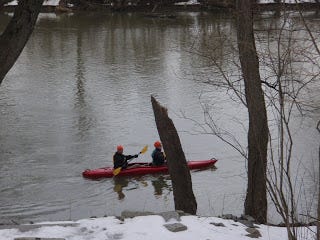 If you're a warm-weather-only paddler, your boat should be inside for the winter if possible. Dry the inside, treat all seals as needed, and critter-proof them as much as possible. Hatch and cockpit covers should be tightly installed. Mice, raccoons, etc. can easily ruin foam flotation and seats, as well as leaving droppings all over them. Kayaking gear should also be stored in a warm, dry environment to prolong its life.
Give it a shot, get your boat out this winter and find out what new discoveries are waiting for you.